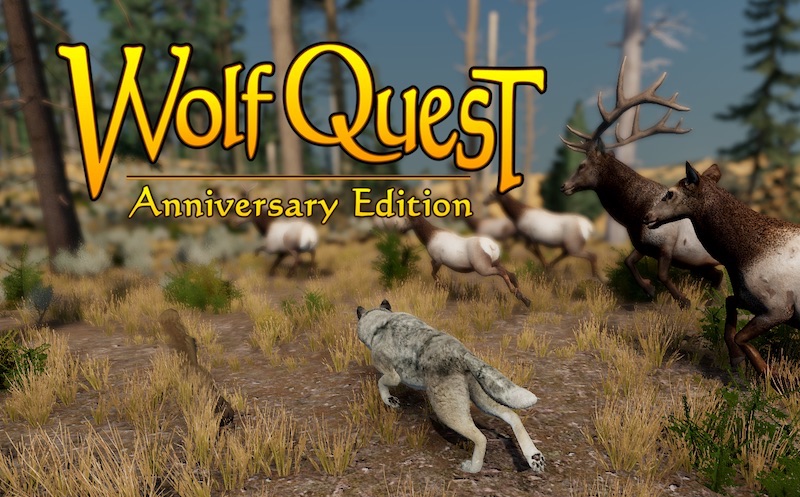 WolfQuest
A downloadable game for Windows and macOS

We're remaking the game from the ground up! Bigger and better gameplay, huge new maps, more animals!

Currently the Early Access game features:
Episode 1: Amethyst Mountain: Learn to hunt and find a mate!
Episode 2: Slough Creek: Establish a territory and raise wolf pups!
Multiplayer: Form a pack with friends and raise pups, hunt, fight, and claim territory!
Lost River (Classic): Explore the mysterious map from WolfQuest 2.7!
Learn more in the game FAQS and devblog!


With your purchase of WolfQuest, you get both WolfQuest 2.7 Classic and WolfQuest: Anniversary Edition (early access)!

IMPORTANT:
The Free Trial is for WQ 2.7, not for the new Anniversary Edition -- which has higher hardware requirements than WQ 2.7 had, so please check those specs before purchasing. (We do not currently have a free trial for WQ: Anniversary Edition.)
WQ: Anniversary Edition has significantly higher hardware requirements than the old game. Be sure to check them below before purchasing!
Live the life of a wild wolf
You are a two-year old gray wolf born in the Northern Range of Yellowstone National Park. You learned the ways of the wolf in your birth pack. Now it's time for you to learn how to live on your own, finding food, meeting other wolves, and searching for a mate. Ultimately, your goal is to find a home and build your own family.
Embark on a quest for survival
Your quest begins on the slopes of Amethyst Mountain and eventually takes you across the Lamar Valley to Slough Creek. There, you and your mate must establish a territory and raise a litter of pups: training them, feeding them, defending them against predators, and finally taking them on a cross-country journey to a summer home. Ultimately, your success will depend on your ability to ensure the survival of your pack.

Experience Yellowstone National Park
Explore WolfQuest's realistic recreation of the Northern Range of Yellowstone National Park — "the Serengeti of North America" — where herds of elk and other ungulates roam the sagebrush steppe grasslands, alpine forests, and magnificent high ridges.
But watch out for packs of stranger wolves, who patrol their territories and don't look kindly on intruders. The wilderness brims with other dangers as well — grizzly bears, cougars, and coyotes — who all vie with you for territory and food.
Realistic Ecology and Gameplay (Anniversary Edition)
Herds of elk roam the land in realistic herds, along with moose, mule deer, beavers, and other prey.
Other wolf packs maintain and defend their territory against intruders -- like you.
Grizzlies, cougars, coyotes, and other predators challenge you over your kills -- and protect theirs.
Wolves communicate with each other using natural actions and vocalizations.
Dynamic (family-friendly) courtship interactions allow you to choose a suitable mate.
Adorable wolf pups who play with each other and with your wolf and mate.
Vast wilderness maps (nearly 50 square kilometers) depict Yellowstone's Northern Range.
Innovative Age Perks system models the arc of life (and death) of a wild wolf.
In Ironwolf mode (optional), live life on the edge: your first death is your last.
Dynamic day/night, weather, and seasons immerse you in the wilderness.
Nearly fifty achievements, plus collectible objects.
Our science advisors include some of the top wolf biologists in the world today, who help us keep WolfQuest accurate to real wolf biology and behavior.
More Features Coming During Early Access!
The WolfQuest Saga will continue the story of the pack! Leave your summering spot and follow the elk herds through the seasons, helping your pups learn how to hunt as they grow to adulthood. Then as the years roll by, raise a new litter of pups, with your yearlings helping before they disperse. (Learn more in this devblog, Where No WolfQuest Has Gone Before)
Start a new game on any map, and as the years go by, move your pack to other Yellowstone maps anytime during fall or winter.
Bighorn sheep!
Play the game alone or with friends
Create a public game open to everyone or a private game for friends only.
Co-op multiplayer in Slough Creek. Raise your pups together!
Co-op mission: Claim and maintain territory against rival wolf packs.

For $7 more, get the WolfQuest Soundtrack and Music Extras, which include the complete game soundtrack, including 39 new tracks from Anniversary Edition, and a 25-minute video featuring game composer Tim Buzza talking about how he created the signature sound of WolfQuest and many memorable tracks in the game. Or buy it separately for $10.
______________________________________________________________

Yellowstone Wolf Coat DLC
Purchase this DLC pack for $6 to add 15 more coats based on actual Yellowstone wolves --important, famous, or just cool. You can the choose any of these coats for your own wolf. They will also be eligible to appear on dispersal wolves and grown pups in any new game that you start after you make the purchase. Purchase this DLC pack from the game: go to Wolf Customization > Coats and scroll down to preview and purchase the coats.
______________________________________________________________

Awards
Bronze MUSE Award, American Association of Museums
Education Award, Association of Zoos and Aquariums,
Editor's Choice Award, Children's Technology Review
______________________________________________________________

Check the Knowledge Base for full specs and gameplay descriptions.
WolfQuest: Anniversary Edition System Requirements
Windows
Minimum:
OS: Windows 7/8/10
64-bit Processor: Intel Core i5 or equivalent
Memory: 8 GB RAM
Graphics: Intel Iris 630 Pro or similar (using "Basic" mode in graphics settings)
DirectX: Version 11
Storage: 8 GB available space
Sound Card: DirectX compatible soundcard or onboard chipset
Recommended:
OS: Windows 7/8/10
64-bitProcessor: Intel Core i5 or equivalent
Memory: 8 GB RAM
Graphics: Nvidia GTX 1060 or Radeon 580
DirectX: Version 11
Storage: 8 GB available space
Sound Card: DirectX compatible soundcard or onboard chipset
Mac OSX
Minimum:
OS: MacOS 10.13 or newer
Processor: Intel Core i5 or equivalent
Memory: 8 GB RAM
Graphics: Radeon R7
Storage: 8 GB available space
Recommended:
OS: MacOS 10.13 or newer
Processor: Intel Core i5 or equivalent
Memory: 8 GB RAM
Graphics: Radeon 580
Storage: 8 GB available space
Internet Connection:
An active broadband Internet connection is required to download the game and game patches and updates. An Internet connection is not required to play in single player mode after the game launcher has downloaded and installed the game
WolfQuest 2.7 System Requirements
Windows
Windows XP Service Pack 2 or higher (DirectX 9.0c or higher must be installed). DirectX 9 or higher GPU
1024x768 screen resolution 2.0 GHz
Dual Core Pentium, i3, or higher processor
2 GB available hard drive space
4 GB RAM
Mac OSX
OSX 10.9 or higher
64-bit processor (i5 or higher)
1024 x 768 or higher screen resolution
2 GB available hard drive space
4 GB RAM Minimum
____________________________________________________________

Tech Support
Having trouble installing or running the game? Please check the system requirements above to ensure that your computer meets or exceeds them. If so, then please see the WolfQuest Knowledge Base.
______________________________________________________________

WolfQuest is also on Steam!
Your purchase here on itch.io includes a Steam key. If you prefer to buy the game on Steam, go to our Steam page. (But please note: We receive a smaller percentage of money from purchases on Steam compared to itch.io, so we always prefer that you purchase on itch.io, then claim a Steam key to get it there.) ______________________________________________________________
MOBILE
These versions are for Mac and Windows computers only!
Use the link below for iOS, Android, and Kindle versions. ______________________________________________________________

The game does not run on ChromeBooks, sorry.
| | |
| --- | --- |
| Status | Released |
| Platforms | Windows, macOS |
| Rating | |
| Author | eduweb |
| Genre | Simulation |
| Tags | Animals, ecology, hunting, Mountains, nature, pups, wildlife, wolf, yellowstone |
| Average session | About a half-hour |
| Languages | English |
| Inputs | Keyboard, Mouse |
| Multiplayer | Server-based networked multiplayer |
| Links | Help & Support, Homepage, Community, Steam Greenlight |
Purchase
In order to download this game you must purchase it at or above the minimum price of $20 USD. Your purchase comes with a Steam key. You will get access to the following files:
WolfQuest Anniversary Edition (Windows)
7 MB
WolfQuest Anniversary Edition (Mac)
13 MB
WolfQuest 2.7 (Old Game, Windows version)
13 MB
WolfQuest 2.7 (Old Game, Mac version)
22 MB
WolfQuest Soundtrack and Music Extras
827 MB
if you pay $27 USD or more
Also available on
Download demo